Bookshop & Community: Community at the Heart of a Bookstore
Left image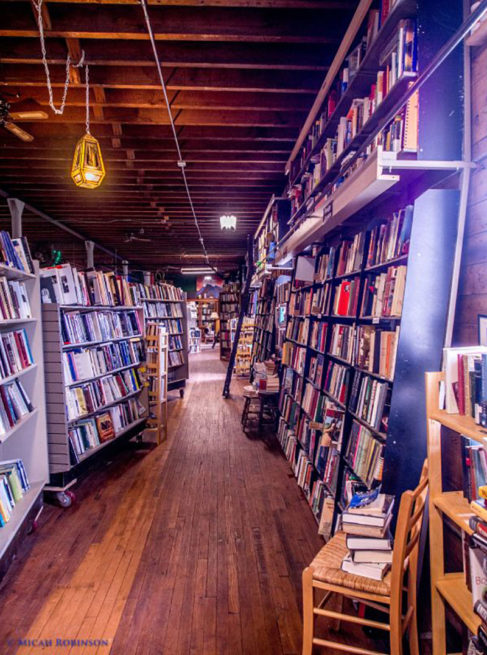 Right image
Text
Community at the Heart of a Bookstore
by Eddy Nix
In the Driftless region of south-western Wisconsin, small rural communities are nestled among the picturesque hills and coulees of an unglaciated, river-valley-contoured landscape. Small-scale agriculture, although changing dramatically over the past few decades, has been the primary industry here for many generations. Ageing tobacco and dairy farmers (and their beautiful barns) have made way for a younger generation of organic-vegetable producers and permaculture operations feeding a thriving local-foods movement in the region.
Viroqua, Wisconsin, located in the heart of the Driftless, is a growing, vibrant small town of approximately 5,000 residents. Like in many small Midwestern towns in the US, the local economy was damaged through the 1990s and into the 2000s by the 'big box' store trend. Wal-Mart moved in to Viroqua, pressuring many small main-street stores out of business. Viroqua, along with neighbouring towns, saw a bleak economic period before the entrepreneurial will of the community became re-engaged in reinventing itself. It won't surprise readers that among the initiatives and businesses restoring the economic and cultural health to this community is a used bookstore, albeit a very, very large used bookstore.
Back in 2009, I was given a 20,000-square-foot brick tobacco warehouse, obsolete in its past role as a centre of activity and industry curing tobacco and housing a farmer's cooperative. At that point, I had already accumulated over 200,000 volumes from a handful of US bookstores, which, like so many across the country, had closed their doors. I was 40 years old and was moving back to the town where years before I had helped start a Waldorf-inspired high school in 1996. During those intervening years, the community had changed a great deal. The alternative high school had doubled in size, and the business community was beginning to pick up, with smart young businesses that combined a sense of appreciation for the unique Driftless bioregion and a commitment to building community by every means possible.
Over a very cold winter, I moved my quarter-million books (and shelves and boxes and trunks and endless ephemera and paintings and antique miscellany that inherently come with the used-book trade) from our previous building in another town, now devastated by a flood and then a tornado. With help from dedicated friends, we screwed in shelving from multiple closed commercial bookstores scavenged in the early years. While other bookstores seemed to be closing right and left, I was just getting started. My community was always my intended beneficiary of all my labours; and my community, as it is turning out, is helping me make it happen.
Indeed, the community came together to help my oversized yet fledging endeavour in ways that were beyond my imagination. We held potlucks, singalongs, theatrical readings, book clubs, square dances and radio shows. There were children's birthday parties, weddings, community meetings, school recitals, rehearsals, performances and discussions. The bookstore became a place to have an event, of whatever kind, and in those first years we allowed just about anything.
The books not only were the ideal backdrop to dress up any event, they also brought the financial stability to keep the doors open and make these community events possible. Along with the store sales, we sell books online. To my amazement, there are many months the in-house book-buying in this small town surpasses the global online sales. The community reciprocates by bringing in their books. Not a day goes by without bags and boxes of books waiting for me on the porch as I arrive for the day. I consider this an important community service, and folks will come from towns and cities hours away to lovingly give their books a good next home. Some days they are from a grandmother's house a town over, or a secret book hoarder who never knew about the store just a few blocks away, or a barn full of farming books and tractor manuals.
The community continues to be the lifeblood of the store. This past year the bookstore has become a sought-after venue for musicians and bands of all genres, some local and others passing through on tour. The store is host to a season of over 100 musical, literary and spoken word events from March through December, an average of about three per week. Unanimously, the musicians who play here gain a deep appreciation for the acoustics of the room that resonate with the 108-year-old oak beams and flooring, and, of course, the books. I always offer books to every musician who plays, and, if needed, a bed upstairs to spend a peaceful night.
As I watch this community grow first-hand (newcomers show up at the bookstore every day, just like books do), I reflect on the changes of these past seven years and realise that change itself is the way forward, even for a used bookstore. I am not sure what next season will bring, but I am sure it will include my friends, my community, and my books.